Garmin Waypoint Import – Solved
This is one of our most asked questions – how do I get my landing sites into my Garmin Avionics?
Helipaddy's founders have an R66 with a GTN650, an Aera 660 and Garmin Pilot. Note that none of these systems allow you to upload logical landing sites, you have to fudge it by importing them as "waypoints". We were surprised to find that the three Garmin units use different formats for waypoints as follows:
Garmin Aera 660 – as with most Garmin handheld devices, it uses a GPX file format. See Step 2A below.
Garmin Pilot – uses CSV (or Excel) format and allows longer place names eg 24 characters – see Step 2B below.
GTN650 / GTN750 – also uses CSV but with a proprietary format. It does not allow you to set the "Airport" flag for a waypoint, you have to do this manually from the GTN. If you don't then your terrain warnings will go off in your ear when you land at a "waypoint". See Step 2C below.
Fortunately, the Helipaddy chaps have cracked all these formats meaning you can use Helipaddy to store your favourite sites and then push them all to Garmin (or SkyDemon or Foreflight etc.). This works very nicely if you like creating flight plans in the cockpit and/or use the HeliSAS autopilot with Garmin Avionics.
We have produced this guide independently of Garmin, SkyDemon or Foreflight. They are focused on fixed-wing markets, not us helicopter chaps at the time of writing. Helipaddy has approached all three companies on behalf of pilots because, unlike them, we subscribe to the Aviation Open Data Protocols AOD for data sharing and API's.
Step 1 – Prepare sites in Helipaddy
Mark any Helipaddy sites you want to export as Favourites which you can do in the App or online in your dashboard. Now go to the online dashboard home page and you will see the export buttons CSV, GPX, CSV (Garmin GTN) and KML.
Step 2A – Aera 660 (video)
The Aera takes a special GPX format so click the Helipaddy GPX button and save the file to a micro SD card inserted into your laptop within the GARMIN folder. The name doesn't matter as long as it is a .gpx file.
Insert this is into the Aera 660 slot – the Aera can be swsitched on. You don't get any notifications but they are now on the device under Tools>User Waypoints. They show up on the maps and can be searched when creating flight plans.
There is no way to do this OTA (over the air) but you can use a mini USB cable from the Aera to your laptop if you cannot read the SD card.
If you delete a User Waypoint on the Aera, it remains deleted even if you pop out the SD card and reinsert it. When we tested this, if we renamed the GPX file on the SD card (triggering a newer file modification date) it did reimport the deleted waypoint.
Here is a video to show you how it works: https://youtu.be/z2KwzfxawkE
Step 2B – Garmin Pilot (video)
The Pilot App takes a proprietary CSV format which Helipaddy have made compatible so hit the Helipaddy CSV button. You can do this whilst on a mobile and then send the CSV file straight to the Garmin Pilot app. No need for any SD cards or laptops.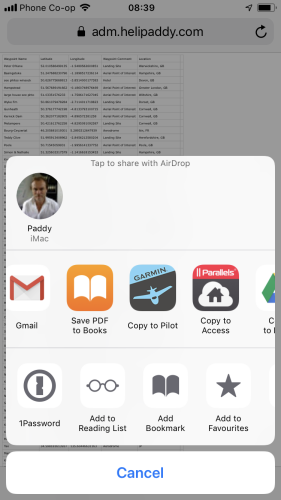 If you want to prepare it all offline, you can email the CSV file and then share it to the Garmin Pilot app that way.
Tip: you can also use Helipaddy's KML format and Garmin Pilot will accept KML layers as well. The waypoints exist in the App but are not available when searching in flight plan mode. You have to click on them in the map to include them in a flight plan, however, if you are using the waypoints settings for something else then this gives you a 2nd storage area. Hit the Helipaddy KML button to do this.
The CSV export can be repeated safely and doesn't create duplicates. Unfortunately, Garmin doesn't provide a way to transfer these to the cockpit GTN via the Flightstream 510 WiFi card. For that you have to follow step 2C below.
Step 2C – GTN 650 or 750 (video)
The only way to get your waypoints onto the aircraft's Garmin avionics is via the GTN SD card (SD not Micro-SD) so this cannot be done OTA (except via flight plans, see below) and does require a laptop for the card as there is no USB connection on the GTN. On a computer, hit the Helipaddy CSV (Garmin GTN) button and save the file as user.wpt (do not use any other name) on the root folder of the SD card.
In the GTN, there is a 6 character limit so we have designed it to use a unique Helipaddy identifier for the name and the actual name in the Waypoint comment field.
If you have a Flightstream 510 card in the GTN's card slot then remove this first. Place the SD card into the GTN (this works for me without powering the GTN off and on although Garmin say it needs to be restarted). Note that you cannot use the spare slots on the G500H TXi screen so, once imported, you have to swap the SD card back out for the Flightstream card.
From the Home page of the GTN touch the Waypoint Info > Import Waypoints icons.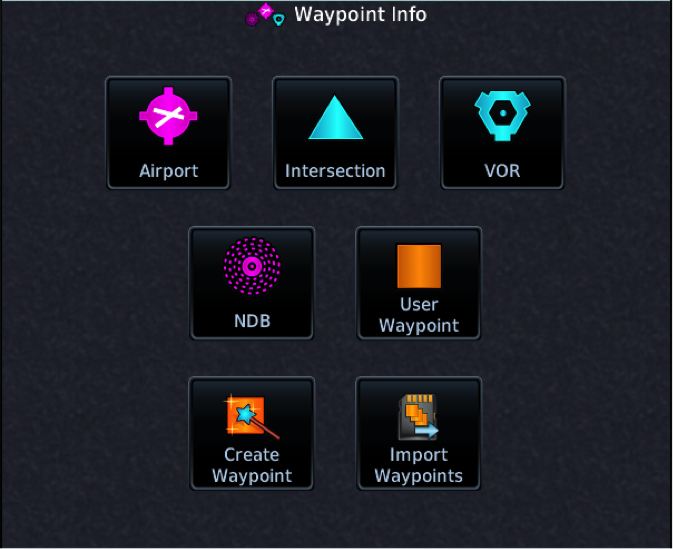 Confirm the import – you won't get duplicates as it discards them.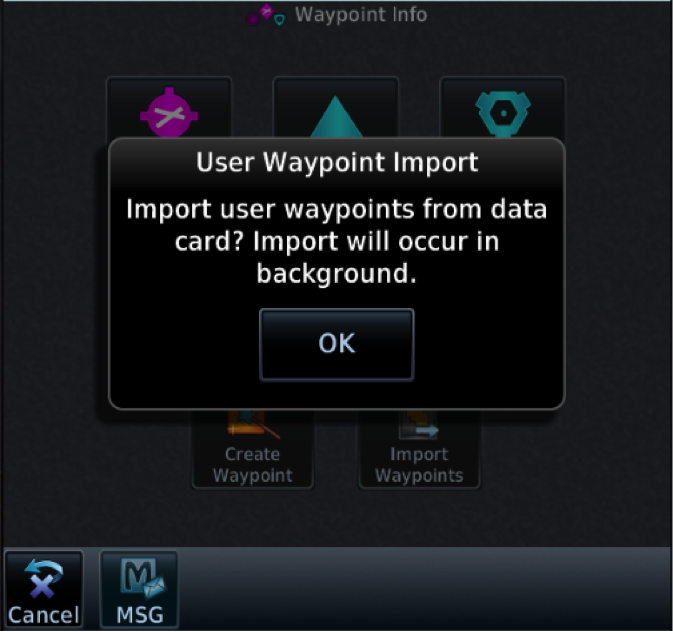 The imported waypoints will show up with the Helkipaddy site ID as the name (due to the Garmin 6 character limit) and the actual name as the waypoint comment.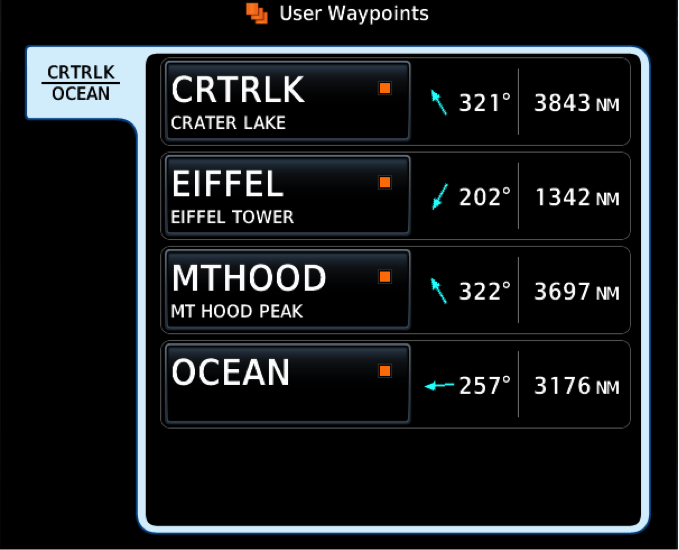 The GTN currenly allows up to 10000 user waypoints. You will find all your Helipaddy waypoints stored as numbers starting with 0 e.g. 007123. When you create a new flight plan, click Add Waypoint and then type 0. The Fast Find will show the nearest waypoint that starts with 0 in the name. Alternatively, you can press the Find button, then User and all of the Helipaddy waypoints are at the end starting with 0.
All Helipaddy members will be using the same numeric codes for a given landing site so they will be able to share waypoint instructions easily.
Note that you can use Garmin Pilot and a Flightstream to send flight plans to the GTN. This can be useful where you are in a hurry, and where you already have your waypoint library on Garmin Pilot. Here is the process assuming your Garmin Pilot is automatically connecting to the GTN via Bluetooth.
Set up the flight plan to your desired waypoint in Garmin Pilot and then press the blue Connext symbol: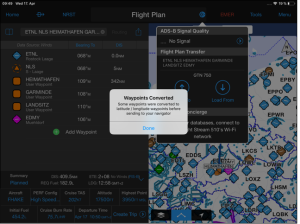 The GTN will, unfortunately, rename any non-ICAO waypoints to USRxxx: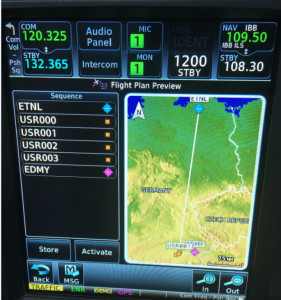 For SkyDemon, Foreflight etc., please see https://helipaddy.com/blog/2015/12/14/skydemon-foreflight-earth
Creating a Garmin flight plan to a waypoint using iOS
Let's say you want to export a Helipaddy location to your Garmin avionics whilst sitting in your helicopter with no cables. It's possible if you have the Garmin Pilot app (no subscription needed) and EITHER a GTN650 or GTN750 with Flightstream 510 card inserted AND/OR a Garmin Aera 660.
Step 1: as per Step 1 above – favourite the location in Helipaddy (add it first if necessary)
Step 2: In the Helipaddy app, go to Account and click on Online Dashoard. Or, in a mobile browser, go to https://adm.helipaddy.com/account/info/export_csv/ (it will ask you to login).
Step 3: Share the CSV to Garmin Pilot
Step 4: In Garmin Pilot, go to Flight Plan and enter the location name in the flight plan. It works a bit better if you can also put your current starting location in. You can find nearby locations using the find symbol and then the User filter.
Step 5a – Aera 660 – make sure your Aera 660 is connected to your iPhone or iPad via Bluetooth. In the Aera, choose Setup>Bluetooth and connect.
Step 5b – GTN650 or GTN750 – make sure your phone is connected to the GTN via bluetooth, this should be automatic
Step 6 – In Garmin Pilot, click the blue Connext symbol at the top and then Send To anmd the flight plan is now transferred to your avionics. Phew!