Top 10 Heli-friendly Hotels and Lunch-Spots Around London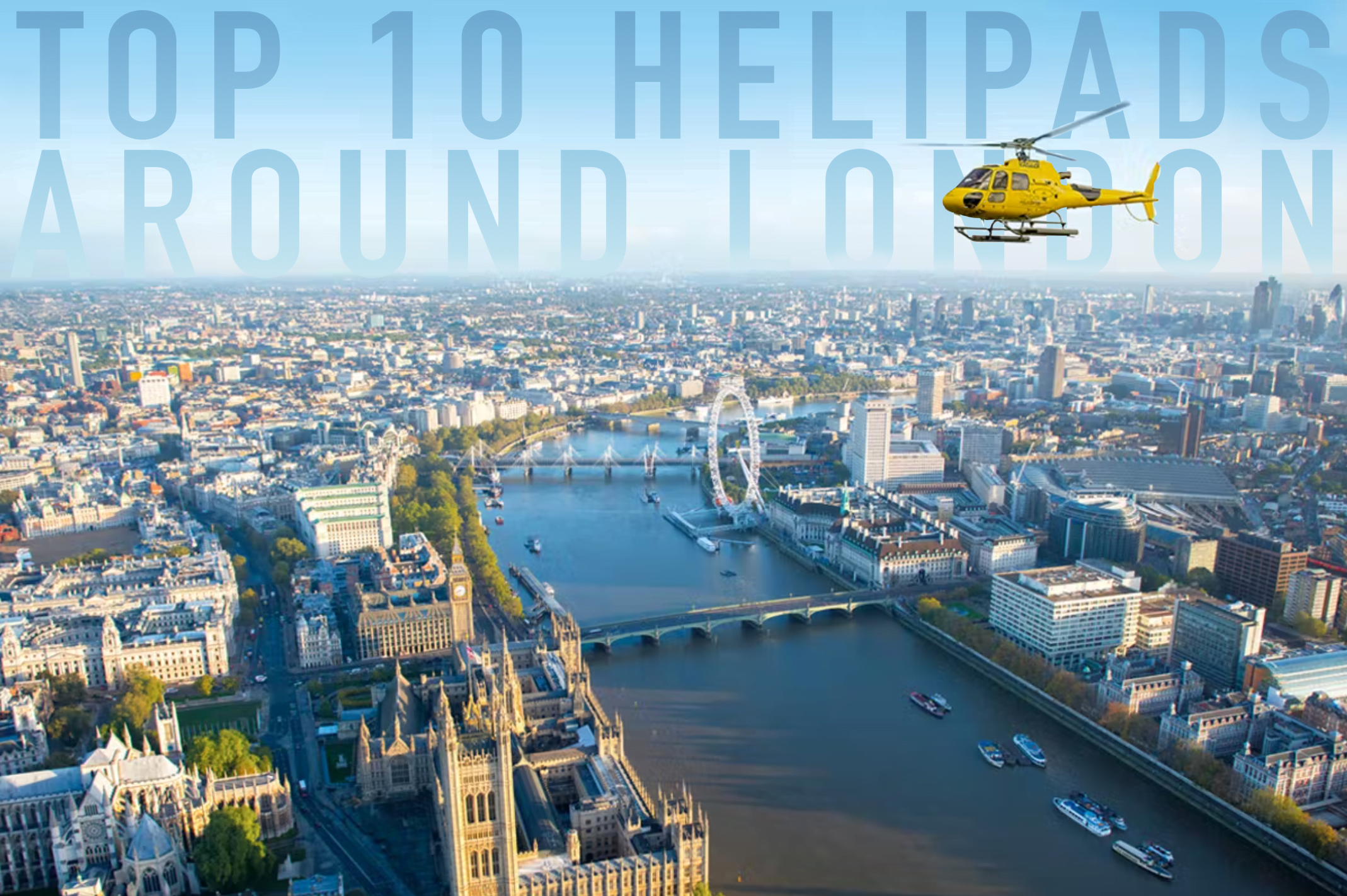 Where better to escape London's hustle and bustle than by visiting Helipaddy's Top 10 Landing Sites around London? We have included a range of hotels, restaurants and pubs that can all be located for further information within our Helipaddy app. Keep reading to see our best picks!
Helipaddy is starting off strong with this cosy inn. This hotel dates back to the 16th century and combines the traditional beauty of the English countryside with a modern touch. This is the perfect location to escape the city.
This acclaimed gastro pub is one you won't want to miss. Whether you're drawn here for the incredible food, sculptures, or simply the fact it's heli-friendly, their team are committed and accommodating. The well loved Sir Charles Napier is ideal all year round for a summertime Sunday lunch in the spectacular gardens or for a dinner by the restaurant's log fire. With unique dishes and an extensive wine list, you can't go wrong.
This 4 star hotel is located in the Hertfordshire countryside of St Albans and is within close proximity to St Pancras and Luton airport. Sopwell House has luxury rooms with 16 carefully crafted and elaborate suites from which you can head down to the bar or cocktail lounge. As well as this, the hotel also has spa and fitness facilities to help you truly relax and get the most out of your stay.
'Think Napa Valley but with a twist of the English countryside'. This next pick is an incredible twist on your average wine tasting. At Ashling Park Estate, you'll find a wine retreat in the heart of the countryside offering gorgeous lodges, vineyard tours and the the chance to sample award-winning wines. This is one you won't want to miss!
Our next pick is the perfect spot for a spring staycation. Built in 1772, Buxted Park Hotel is surrounded by exquisite grounds, making it the perfect rural getaway. The hotel has 43 guest rooms with flexible bookings and an array of restaurants, bars and lounges. Being a luxury hotel that is family, dog, and heli-friendly, what more could you want? We know you'll be in good hands, their notable guests such as Wordsworth and Churchill would think so too!
Number 6 on our list is the former stately home Hartwell House and Spa with over 90 acres of land and located in an area of outstanding Natural Beauty. It has 48 luxury bedrooms and suites to accommodate you and is only 45 minutes from Heathrow airport, making it particularly convienient.
Bailiffscourt Hotel is one of a kind with its combination of 1920's medieval style architecture and luxury rooms. This 17th century estathas an award winning spa, infinity pool and a modern gym ensuring you will feel pampered during your stay. This is a perfect spot for a summer stay near London, with 30 acres of private parkland and only a 15 minute walk from the local beach!
The next spot on our list, Avisford Park, offers the perfect heli-friendly escape to the English countryside. This is a Georgian Manor House with direct rail links to London. Avisford Park has a range of amenities such as a golf club, tennis courts, indoor and outdoor pools as well as luxury restaurants. We can't recommend this enough.
This restaurant gets its name from the fact it was originally built in Paris in 1878 and has since been reassembled on the Duke of Bedford's Estate in Woburn. This is now a family run Michelin star restaurant with 6 course meals to try, accompanied by attentive customer service. You can even book private rooms if you plan on coming in larger groups.
Last but not least, Stapleford Park occupies 500 acres and traces back to the 14th century so there is plenty of history to discover here. You can also enjoy countless activities here such as shooting, riding and falconry as well as taking a look at the range of antiques and paintings. There is a pool and dogs and helicopters are welcome!
We hope you have enjoyed reading about Helipaddy's Top 10 Helipads around London. For any future travels, be sure to use Helipaddy and check out our latest blog post here.