Top 10 Island Landing Sites in Europe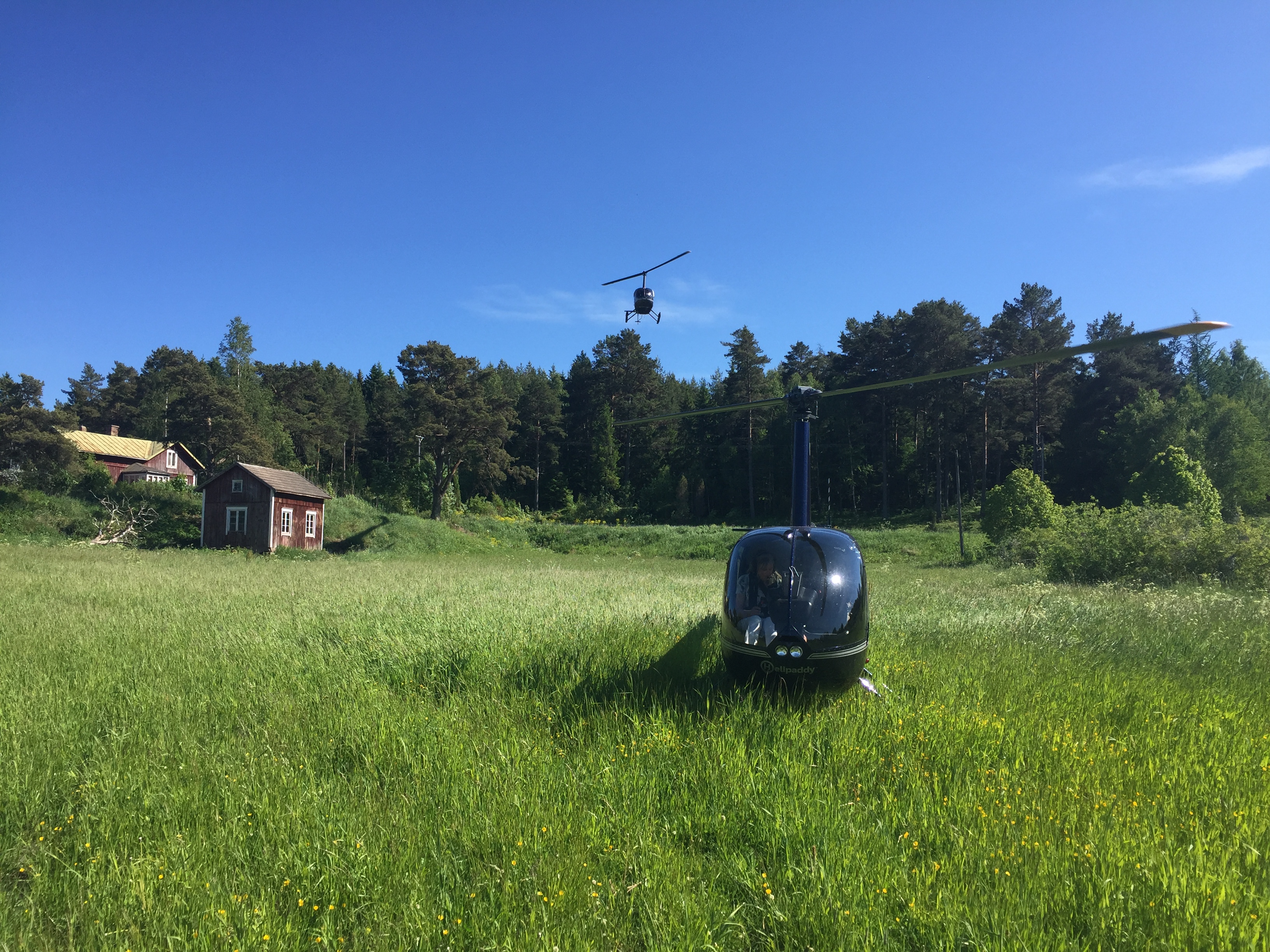 From the Swedish countryside to the Spanish mountains, Europe's island landing sites are especially popular with Helipaddy pilots.
We have included a list of the Top 10 Island Landing Sites in Europe, including hotels and restaurants that are as committed to ensuring you enjoy your trip as we are!
Looking for some rest and relaxation amidst Sweden's natural beauty? Look no further than the Aland archipelagos, just 80m from Stockholm. The Aland Islands are an autonomous outcrop of Finland and comprise around 6,700 islands – you'll be in helicopter heaven! The capital, Mariehamn is known for its beaches and streets lined with 19th-century wooden townhouses
Whilst you're there, we recommend landing your heli at the hidden gem Smakbyn, an old inlet where you can feast your eyes on rustic traditional architecture whilst wetting your appetite with the finest Nordic food the chefs have to offer.

La Signoria takes the well deserved spot for the most luxurious getaway on this list. Can't decide if you prefer the beach or the mountains? Luckily for you, this charming 18th century hotel and restaurant lies at the base of the Corsican mountains yet is also within reach of white sand beaches. Whilst the heli parking is somewhat limited, it's conveniently located near an airport for refuelling and you won't want to leave once you set your eyes on the plush palm trees, fountains, jacuzzi and spa.
Want to feel like you're in the Caribbean without leaving England? Just 28 miles from the Cornish coast, Tresco Island has all the allure of the tropics without being short of things to do. All its houses are time shares and offered by the week, however, there is also a hotel making it accessible for a day trip. Tresco has something for everyone, whether you fancy a historical building tour, water sports, live music or even a botanical tour of their very own Abbey Gardens. It's safe to say you won't get bored, plus, as of 2022 you can now refuel with Jet-A1
There's nothing quite like enjoying some delicious seafood whilst surrounded by family and friends and a beautiful ocean view. Funnily enough, GQ seems to think so too! The Hut rightfully won the GQ 2020 Food and Drink Awards for Best Experience. This comes as no surprise as The Hut's easy-going ambience makes it the perfect spot to sit back, relax, and inhale some fresh seafood. Oops, sea air!
Whilst you have to walk from this spot through a town to get to the beachside cafe, it'll be worth it once you try their food.

For our next choice, we're venturing to the heli-friendly Lundy off the coast of North Devon. The island is owned by The Landmark Trust which helps to conserve it's spectacular array of diverse scenery and wildlife. Don't forget your binoculars on this trip – Lundy is home to over 35 species of unique birds! The Island has one pub, The Marisco Tavern, which has been described by The Trust as 'the pub that never shuts'. You will be fined if you get your phone out! 

The secluded island of Belle-Île-en-Mer is the ideal setting for a restorative getaway. The Castel Clara hotel overlooks the picturesque Goulphar Bay, where the Impressionist Claude Monet liked to paint his magical landscapes. Head to the thalassotherapy centre or spa to discover their new Ludique heated designer pool. Moreover, their two restaurants serve freshly caught seafood and overlook the courtyards and bay.
Set in the heart of North Wales, It comes as no surprise that over 220 square miles of Anglesey's unspoilt coast and landscapes have been declared an 'Area of Outstanding Natural Beauty'. Whilst this isn't particularly an island, it has gained its spot on this list for being a suitable hop off point for trips to Ireland or the Isle of Man. The Tre-Ysgawen Hall can be discovered down a secluded wooden drive, overlooking mountain views and with the best spa experience in Wales.
This luxurious yet elegant 4 star hotel is situated amongst 200 acres of picturesque landscapes. Their accommodation ranges from private suites, to executive and even interconnecting rooms which makes it ideal for solo business trips or adventures with family and friends. Not to mention, Comis Golf at Mount Murray which is the perfect way to spend an afternoon. The course is made up of six par 3's and is just over 6000 yards from the Championship tees. There is also a floodlit driving range, a fleet of buggies and the clubhouse bar and restaurant. All you need to bring is yourself and your helicopter to have a wonderful yet restful stay.
Scotland, and particularly the western isles, is an epic place for helicopter flying.  Major tip: avoid birds and people, and you will be very welcome! Of course, there are many island based establishments to try out, we chose this as it's an easy flight from Oban where you will most likely have to refuel. The Machrie, situated near the Oa peninsula and the Nature reserve, it is a great location from which to explore all that Islay has to offer. 
They are very heli friendly as you can see from the pic!
Texel is just one of the Dutch Wadden Islands that lies just off the coast of the Netherlands. With sandy beaches and forest trails, the Texel National Park is a wonder to behold. The park has its own Ecomare nature museum, aquarium and wildlife sanctuary, making it the ideal spot for any nature lovers. There are also plenty of restaurants, including the stylish Island Kitchen (Eilandkeuken) and also the Pakhuus Restaurant which has excellent views overlooking the harbour and shrimp boats. Texel is perfect if you're looking for a quirky and unique place to stay – it even has a sheep-themed hotel, which is, unsurprisingly, very wooly!
Europe is never far short of a new place to land and explore. Whether you're looking to relax or delve deep into nature, there is a unique island just waiting to have you!
If you enjoyed this article, be sure to check out our recent blog post Top 10 Heli-friendly Hotels and Lunch Spots Around London for more…